Sustainable Transformation Programme Open Call: 80 beneficiaries
News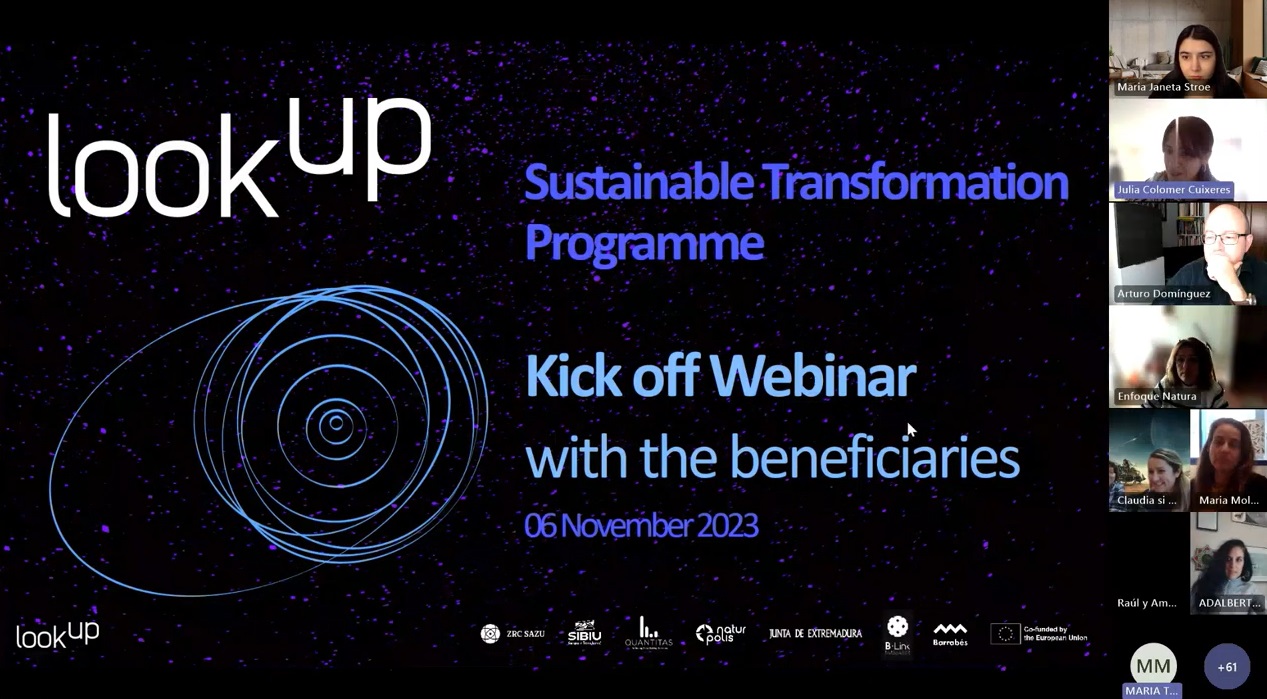 Last weeks, our focus has been fully immersed in the Sustainable Transformation Programme Open Call, and it is with great pleasure that we announce its resounding success. The enthusiasm and dedication demonstrated by small and medium-sized businesses (SMEs) from across Europe have been truly remarkable.
After meticulous consideration, we could annouce the selection of 80 SMEs as beneficiaries of the LookUP's 'Go Green, Get Digital and Be Resilient' Programme. The diversity and geographical spread of these businesses underscore the program's broad impact, with 34 SMEs from Spain, 22 from Finland, and 24 from Romania poised to embark on a transformative journey.
Recently, we conducted an online presentation uniting all beneficiaries of the LookUP Sustainable Transformation Programme, Window 1 and Window 2. This presentation allowed us to virtually connect with selected SMEs, providing insights into the program's goals, expectations, and the forthcoming event. This preparatory session laid the groundwork for a vibrant exchange of ideas, fostering a sense of community among the beneficiaries. In addition, this served as a crucial prelude to the upcoming LookUP Co-innovation Event for Window 2.
This first event, scheduled for the 12th and 13th of December 2023 in Kuusamo, Finland, marks the initiation of a transformative collaboration set to significantly impact the trajectory of the participating businesses. Moreover, it is designed to be more than a platform for networking; it is an opportunity for collaborative learning, idea exchange, and the exploration of innovative solutions. We are genuinely thrilled about the possibilities that this collaboration will unlock. The LookUP project envisions a future where sustainability and innovation seamlessly converge, creating unique and memorable tourism experiences under the open European sky. As the participating businesses embark on this transformative journey, we are confident that their collective efforts will contribute to reshaping the future of the tourism industry.
Thank you to all the SMEs who applied, and congratulations to the 80 selected beneficiaries. Stay tuned for updates as we delve into the exciting developments that will unfold during the LookUP Co-innovation Event and the subsequent phases of the Sustainable Transformation Programme. Together, let's witness and celebrate the positive change that these innovative and sustainable initiatives will bring to the forefront of the European tourism market.